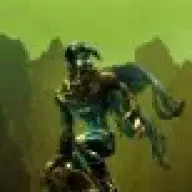 3,973
1,078
CPU

AMD Athlon XP-M 2800+@multi unlocked
Dissipatore

Titan 462 Cooler
Scheda Madre

MSI K7T Turbo-R Limited Edition@VIA KT133A
HDD

Western Digital Caviar Black 80GB IDE
RAM

512MB SD-RAM PC-133 Kingston@Quimonda 2-2-2-5 1T
GPU

Abit Siluro GeForce 4 TI 4600 128MB
Audio

Aureal Vortex 2 AU8830
Monitor

Asus VS239H 23"
PSU

Enermax EG465AX-VE(G) FMA 1.3
Case

Coolermaster Wave Master
Periferiche

Noctua Redux 80mm 1800rpm estrazione - 2 Enermax TB Silence 80mm immissione
OS

Windows 98SE with Unofficial Service Pack 3.56 - Windows XP SP1
Salve a tutti, come da titolo sono in vendita due computer appartenenti al mondo del "Retrogaming", sono in grado di coprire the middle-late DOS era nonchè la Windows 9x era fino alla sua completezza (2002).
Costruisco computer dall'inizio degli anni 2000 ed ho configurato tutti i componenti con lo scopo di garantire la migliore esperienza possibile.
La passione e l'amore per il retrohardware mi ha spinto a costruire e configurare queste due piattaforme: sono pronte all'uso, difatti dovrete semplicemente collegare i computer alla vostra corrente elettrica e potrete iniziare a giocare.
Tutto è stato curato nel minimo dettaglio: per darvi un'idea i giochi sono patchati con le ultime release disponibile, dettagli grafici e configurazione tasti sono già pre-configurati ;).
Rare e difficili da trovare in queste condizioni, nel momento in cui vi scrivo sono pari al nuovo essendo state ripulite in maniera minuziosa, le PSU e le mainboard di entrambi i computer hanno condensatori nuovi in quanto ricappate con sondensatori giapponesi (Nippon, Sanyo e Nichicon etc).
Tutti i componenti hanno subito ore di stress test e provengono dalla mia collezione personale
Primo Computer Slot1
​
-Case: ACER ATX Middle-Tower bianco e blu
Completamente in acciacio, solo la parte frontale è in plastica
Riverniciato con due passate sia di primer sia di colore
-PSU: ADT-2018 235W
OEM Sirtec 3.3v=8A 5v=15A 12v=8A -5v=0.5A -12v=0.8A ATX revision 1.1
Ripulita e ricappata come da foto con nuovi condensatori giapponesi (Nippon KY-KZM), sostituita ventola originale con una nuova.
Effettuati hot-stress test e verificati voltaggi con tester sulle rail principali e minori
-CPU: Intel Pentium III 733EB con dissipatore nuovo mai usato, nuovo rimanenza di magazzino!
Core Coppermine, Step SL4CG, Voltage 1.7v, 733Mhz=133Mhz*5.5
Perfetta come CPU Windows 9x era, facilmente downcloccabile a 100.0/66.6Mhz o addirittura 50.0Mhz sul FSB: si evitano possibili problematiche con i vecchi giochi DOS sensibili alle alte frequenze.
-Mainboard: Shuttle HOT-661 v3.1
Slot1 platform, rara mainboard di fascia alta comprensiva del leggendario northbridge Intel 440BX
Ricappata con nuovi condensatori giapponesi (Sanyo WG-Nippon KY), BIOS aggiornato all'ultima release, nuova batteria a tampone
Features unica è la possibilità di portare il FSB a 50Mhz, pochissime mainboard Slot1 lo permettono: ciò le permette di adattare la CPU alla DOS era.
4 DIMM RAM slots, 1 AGP port, 4 PCI ports, 3 ISA ports
-RAM: 256MB SDR-RAM Samsung PC133@CAS2
Chip Samsung, superano i 150Mhz
-Scheda video: 3DFX Voodoo 3 2000 16MB AGP2X
Gloriosa scheda 3DFX, incredibili performance in ambiente DOS/Win9x DirectX-Glide-OpenGL
Scheda di fascia alta, supporta le esclusive API Glide di 3DFX
-Scheda audio per giochi Windows: Aztech ASC338A@Aureal Vortex 2 AU8830
La migliore scheda audio per la Windows 9x era supporta le esclusive API A3D di Aureal
IRQ setting 5 DMA 3
-Scheda audio per giochi DOS: BTC ESS AutoDrive ES1688F
Fantastica scheda audio ISA:
*has no nasty popping noise when the PC booted up
*NOT PnP card
*support Sound Blaster Pro compatibility
*has a bug free wavetable header / MPU401 (Creative cards affected)
*allow you to select the "AutoDrive" option in the games that support it natively
*exclusive ESS ESFM Technology provide awesome OPL3 sound
IRQ setting 7 DMA 1
-Network PCI card: Realtek RTL8139B
-Hard-Disk: IBM Deskstar 120GXP 40GB IC35L040AVVN07-0 comprensivo di Rack Hard-Disk estraibile
Interfaccia ATA/100, 7200rpm, 2MB cache buffer, un solo piatto magnetico per ottimizzare i tempi di risposta
-Floppy Drive:Samsung SFD-321B Bianco
-Optical Driver: Pioneer DVD-104S
Lettore CD-DVD Rom del 1999 in perfette condizioni ed usato pochissimo, particolare l'assenza del carrello: l'inserimento dei supporti avviene senza di esso
-Ventola: Mentor da 80mm
Nuova, rimanenza da magazzino, trasparente
-Joypad: db boeder interactives CrossCheck
Joypad con doppia Game Port
Nuovo, boxato e comprensivo di accessori
-Sistema Operativo: Microsoft Windows 98 Second Edition con:
*3DFX Voodoo3 v1.07.00
*Aureal Vortex driver v1.30
*Intel Chipset v2.90.009
*Microsoft DirectX 7.0a
*Microsoft Internet Explorer 6.0 SP1
*Microsoft Windows Installer v2.0.2600.2
*.NET Framework 1.1 SP1
*Unofficial Seriver Pack v2.1c V3 Italian
*USB Mass Storage Device Drivers Patch
*Windows Media Player 7.1
*Windows Remote Desktop Connection software
Software:
*7-Zip v9.22
*Adobe Reader 6.0
*CCleaner v2.36
*CPU-Z v1.76
*Daemon Tools v3.47.0
*Everest Home Edition v2.20
*Fraps v1.9D
*Irfanview v4.44
*Mozilla Firefox v2.0.0.20
*Process Explorer v8.52
*SoftFSB v1.7
*VLC media player v0.8.6i
*Winamp v5.35
*WinRAR v3.93
-Windows games included:
*Age of Wonders (English)
*Blood2 The Choosen (English)
*Claw "Capitano Artiglio" (English)
*Colin McRae Rally 1 (Italian)
*Commandos: Behind Enemy Lines (English)
*Commandos: Beyond the Call of Duty (English)
*Diablo (English)
*Diablo II (Italian)
*Forsaken (English)
*Grim Fandango (English)
*GTA 2 (Italian)
*Half-Life (English)
*Heroes of Might and Magic II The Succession Wars (English)
*Incoming (English)
*Legacy of Kain Blood Omen (English)
*Legacy of Kain Soul Reaver (Italian)
*MAME games more over 50ish
*Need for Speed III Hot Pursuit (English)
*Outlaws Collectors Edition (English)
*Odium Gorky 17 (Italian)
*Planescape Torment (#Italian)
*Quake II (English)
*Rayman 2 The Great Escape (Italian)
*SiN (English)
*Starcraft (Italian)
*System Shock 2 (English)
*Test Driver 6 (English)
*The Battle for Wesnoth (Italian)
*The Curse of Monkey Island (English)
*Tomb Raiden II
:
Starring Lara Croft (English)
*Tomb Raider III: Adventures of Lara Croft (English)
*Tomb Raider IV: The Last Revelation (English)
*Tomb Raider V: Chronicles (English)
*Turok Dinosaur Hunter (English)
*Turok 2 Seeds of Evil (English)
*Ultima Collection 1-8 (English)
*Unreal Gold (English)
*Uprising Join or Die (English)
*Uprising II Lead and Destroy (English)
#Traduzione ITP or Figli di Gaucci
-DOS games included:
*Alone in the Dark (1992)
*Blood (1997)
*Day Of The Tentacle (1993)
*Doom (1992)
*Duke Nukem 3D (1996)
*Heretic 1 (1994)
*System Shock (1994)
*The Secret of Monkey Island (1990)
*Tomb Raider (1996)
*Monkey Island 2: LeChuck's Revenge
*Wolfenstein 3D (1992)
Accetto bonifico, post-pay o paypal (piccolo sconto tramite pagamento bancario)
Liberi di chiedere qualsiasi cosa, possiamo cambiare anche diversi componenti ed accessori
A presto Claudio
150€ + Spedizione
Made of full alluminium, only the frontal side is made by plastic
Repainted and cleaned, excellent condition
-PSU: Chieftec 340W HPC-240-201 REV C0
OEM FSP Fortron, 3.3v=28A 5v=30A 12v=15A -5v=0.5A -12V=1A ATX revision 1.3
Cleaned and recapped with new japanese capacitor (Nichicon VZ-Nippon KY), replace original fan with a new one made by CoolerMaster.
Old ATX revision with strong 3.3v and 5v rails good for old 370-462 system
Hot test made to stress 3.3v-5v-12v regulation
-CPU: Intel Celeron Tualatin 1.3Ghz with a CoolerMaster HHC-001 Full Copper
Core Tualatin, Step SL5VR tA1, Voltage 1.5v, 1333Mhz=100Mhz*13
Perfect for Windows 9x games era
-Mainboard: ASUS CUSL2-C v1.02
Socket 370 platform, northbridge Intel i815EP
High-end board when released with the legendary Intel i815E chipset
3 DIMM RAM slots, 1 AGP port, 5 PCI ports
-RAM: 512MB SDR-RAM M.Tec PC133@CAS2
Chip M.Tec TTS7608B8E-6, ablee to reach over 150Mhz
-Graphics Card: ASUS V8420@GeForce 4 TI 4200 128MB with custom heat-sink
Glorious nVidia card, incredible OpenGL & DirectX performance with Windows 9x games
High-end AGP video card when released, from DirectX 5.0-8.1 support even paletted texture and table fog
-Audio Card: Creative Sound Blaster Live! CT4830
High-end PCI audio card when released, support exclusive EAX API by Creative
-USB Card:OPTI FireLink 82C861
This card provide you other two USB 2.0
-Network PCI card: Realtek RTL8139D
-Hard-Disk: 2xMaxtor DiamondMax Plus 8 6E040L0
Interface ATA/133, 7200rpm, 2MB cache buffer, 1 platter to increase performance
-Floppy Drive: NEC FD1231H
-Optical Driver: LG DVD-ROM Drive GDR-8163B
-Fan: 120mm Enermax Magma
-Joypad: X-Tecnologies Super Mito
Joypad with Game Port
New, boxed, never used
-Operation System: Microsoft Windows 98 Second Edition with:
*Detonator 30.82
*Indeo v5.06
*Intel Chipset v5.0.2.1003
*Java Runtime Environment v1.6.0.7
*Microsoft DirectX 7.0a
*Microsoft Internet Explorer 6.0 SP1
*Microsoft Windows Installer v2.0.2600.2
*.NET Framework 2.0
*Realtek RTL8139 v5.707
*Unofficial Seriver Pack v2.1c V3 Italian
*USB Mass Storage Device Drivers Patch
*Windows Media Player 9.0
*Windows Remote Desktop Connection software
Software:
*7-Zip v9.22
*Adobe Reader 6.0
*CCleaner v2.36
*CPU-Z v1.76
*Daemon Tools v3.47.0
*Everest Home Edition v2.20
*Fraps v1.9D
*Irfanview v4.44
*Mozilla Firefox v2.0.0.20
*Process Explorer v8.52
*RegSeeker v1.55
*Rivatuner v2.24c
*VLC media player v0.8.6i
*Winamp v5.35
*WinRAR v3.93
-Operation System: Microsoft Windows 2000 SP4:
*Detonator 45.23
*i815 Tweaker
*Intel Chipset v5.0.2.1003
*Msconfig
*Microsoft DirectX 9.0b
*Microsoft Internet Explorer 6.0 SP1
*Microsoft Windows Installer v3.0
*.NET Framework 2.0
*Realtek RTL8139 v5.719
*Windows Media Player 9.0
*Windows Remote Desktop Connection software
Software:
*7-Zip v16.04
*Adobe Reader 6.0
*CCleaner v2.36
*CPU-Z v1.78
*Daemon Tools v3.47.0
*Everest Home Edition v2.20
*Fraps v1.9D
*GeForce Tweak Utility v3.2
*GPU-Z v0.3.5
*HDTune v2.55
*Hardware Monitor v1.32
*Imgburn v2.5.8.0
*Irfanview v4.44
*Mozilla Firefox v2.0.0.20
*Process Explorer v8.52
*Rivatuner v2.24c
*VLC media player v0.8.6i
*Winamp v5.35
*WinRAR v3.93
-Windows 98 games included:
*Age of Wonders (English)
*Aliens vs Predator Gold Edition (English)
*Claw "Capitano Artiglio" (English)
*Colin McRae Rally (English)
*Diablo (English)
*Diablo II (Italian)
*Escape from Monkey Island (English)
*F1 Racing Championship (English)
*Grim Fandango (English)
*Half-Life (English)
*Heretic II (English)
*Heroes of Might and Magic II The Succession Wars (English)
*Legacy of Kain Blood Omen (English)
*Legacy of Kain Soul Reaver (Italian)
*MAME games more over 50
*Odium Gorky 17 (Italian)
*Outcast (Italian)
*Outlaws Collectors Edition (English)
*Quake II (English)
*Rayman 2 The Great Escape (Italian)
*Requiem Avenging Angel (English)
*Shogo Mobile Armor Division (English)
*SiN (English)
*Starcraft (Italian)
*SuperBike 2001 (Italian)
*The Longest Journey (Italian)
*Unreal (English)
-Windows 2000 games included:
*Age of Wonders Shadow Magic (#Italian)
*Alone in the Dark 4 The New Nightmare (Italian)
*American McGee's Alice (#Italian)
*Arcanum Of Steamworks & Magick Obscura (#Italian)
*Arx Fatalis (Italian)
*Clive Barker's Undying (#Italian)
*Commandos 2 Men of Courage (Italian)
*Crusaders of Might and Magic (English)
*Deus Ex (English)
*Europa Universal 2 (#Italian)
*Heroes of Might and Magic III Complete (English)
*Heroes of Might and Magic IV Complete (English)
*Hidden & Dangerous Deluxe (Italian)
*Hitman Codename 47 (Italian)
*Hitman Silent Assassin (Italian)
*Legacy of Kain Blood Omen 2 (Italian)
*Legacy of Kain Soul Reaver 2 (Italian)
*Motocross Madness 2 (English)
*No One Lives Forever (#Italian)
*Ralph il Lupo All'attacco (Italian)
*Red Faction (English)
*Return to Castle Wolfenstein (Italian)
*Rune (Italian)
*Serious Sam The First Encounter (English)
*Serious Sam The Second Encounter (Italian)
*Soldiers of Fortune Platinum Edition (#Italian)
*Vampire The Masquerade Redemption (#Italian)
#Traduzione ITP or Figli di Gaucci
Accetto bonifico, post-pay o paypal (piccolo sconto tramite pagamento bancario)
Liberi di chiedere qualsiasi cosa, possiamo cambiare anche diversi componenti ed accessori
A presto Claudio
100€ + Spedizione
Ultima modifica: